News & Events

Alien Fuel, Inc.

In February 2009 we deployed our new website to provide information on our solar product lines and company information in an easy access format. Please enjoy the site
Sun related Facts about Solar Energy:

Sunlight travels to the earth in approximately 8 minutes from 93,000,000 miles away, at 186,282 miles per second.
The sun is also the main source of non-renewable fossil fuels (coal, gas and petroleum), which began life as plants or animals whose energy came from the sun millions of year ago.
Solar energy is responsible for weather patterns and ocean currents.
Clouds, pollution and wind can prevent the sun's rays from reaching the earth.


Facts about Solar Energy usage:

Solar Energy is measured in kilowatt-hour. 1 kilowatt = 1000 watts.
1 kilowatt-hour (kWh) = the amount of electricity required to burn a 100 watt light bulb for 10 hours.
According to the US Department of Energy, an average American household used approximately 866-kilowatt hours per month in 1999 costing them $70.68.
About 30% of our total energy consumption is used to heat water.
Alien Fuel, Inc.
140-A Old Oxford Valley Rd
Langhorne, PA 19047
267-294-7799 Office
267-392-5431 Fax
info@alienfuelsolar.com
Rebates & Incentives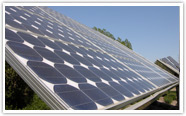 Important links:
Federal Grants and Rebates:
Pa State Grants and Rebates:
The PA Sunshine Program is effectively closed. All installed solar PV systems must register with PA-AEPS. The Pennsylvania Alternative Energy Portfolio Standard (AEPS) requires that an annually increasing percentage of electricity sold to retail customers in Pennsylvania is from alternative energy sources. The program requires that retail energy suppliers utilize Alternative Energy Credits (AECs) for demonstrating compliance with the standard. An AEC is created each time a qualified alternative energy facility produces 1000 kWh of electricity. The AEC is then be sold or traded separately from the power. This makes it easy for individuals and businesses to finance and invest in clean, emission free solar power.
NJ State Grants and Rebates:
www.njcleanenergy.com/renewable-energy
Even though solar projects are no longer eligible for rebates, all projects must be registered under the SREC Registration Program (SRP) in order to earn Solar Renewable Energy Certificates (SRECs). SRECs represent all the clean energy benefits of electricity generated from a solar energy project. SRECs can be sold or traded separately from the power, providing owners a source of revenue to help offset the cost of installation.
For more information contact us at info@alienfuelsolar.com