News & Events

Alien Fuel, Inc.

In February 2009 we deployed our new website to provide information on our solar product lines and company information in an easy access format. Please enjoy the site
Sun related Facts about Solar Energy:

Sunlight travels to the earth in approximately 8 minutes from 93,000,000 miles away, at 186,282 miles per second.
The sun is also the main source of non-renewable fossil fuels (coal, gas and petroleum), which began life as plants or animals whose energy came from the sun millions of year ago.
Solar energy is responsible for weather patterns and ocean currents.
Clouds, pollution and wind can prevent the sun's rays from reaching the earth.


Facts about Solar Energy usage:

Solar Energy is measured in kilowatt-hour. 1 kilowatt = 1000 watts.
1 kilowatt-hour (kWh) = the amount of electricity required to burn a 100 watt light bulb for 10 hours.
According to the US Department of Energy, an average American household used approximately 866-kilowatt hours per month in 1999 costing them $70.68.
About 30% of our total energy consumption is used to heat water.
Alien Fuel, Inc.
140-A Old Oxford Valley Rd
Langhorne, PA 19047
267-294-7799 Office
267-392-5431 Fax
info@alienfuelsolar.com
About Us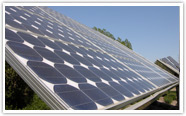 Alien Fuel, Inc.
Who are we?
Alien Fuel, Inc. is an alternative energy company that provides solar energy solutions to residential and commercial clients. We offer Solar Hot Water systems, Solar Electric (know as PV), Solar Hot Air, and Solar Pool Heating.
In February 2009 we deployed our new website to provide information on our solar product lines and company information in an easy access format. Please enjoy the site
Our mission is: To deliver high-quality, cost-effective, efficient solar projects on schedule by employing and supporting motivated, flexible, and focused teams. To maintain the highest levels of professionalism, integrity, honesty and fairness in our relationships with our suppliers, subcontractors, professional associates and customers. To ensure the longevity of our company through repeat and referral business achieved by customer satisfaction in all areas including timeliness, attention to detail and service-minded attitudes.
Our Goal is to provide innovative, cost effective, and renewable energy solutions by utilizing new technologies with solar power. These solutions will aide in the reduction of green house gases, reduce our carbon footprint, and create an energy independence initiative for the consumer.
Our Coverage area: Central and Eastern PA, focusing in Bucks, Montgomery, Chester, and Delaware counties. In NJ, focusing in Hunterdon, Somerset, Mercer, Middlesex, Monmouth, Ocean, and Burlington counties. We are not limited to these specific counties, and will travel throughout both states based on the project and scope.