News & Events

Alien Fuel, Inc.

In February 2009 we deployed our new website to provide information on our solar product lines and company information in an easy access format. Please enjoy the site
Sun related Facts about Solar Energy:

Sunlight travels to the earth in approximately 8 minutes from 93,000,000 miles away, at 186,282 miles per second.
The sun is also the main source of non-renewable fossil fuels (coal, gas and petroleum), which began life as plants or animals whose energy came from the sun millions of year ago.
Solar energy is responsible for weather patterns and ocean currents.
Clouds, pollution and wind can prevent the sun's rays from reaching the earth.


Facts about Solar Energy usage:

Solar Energy is measured in kilowatt-hour. 1 kilowatt = 1000 watts.
1 kilowatt-hour (kWh) = the amount of electricity required to burn a 100 watt light bulb for 10 hours.
According to the US Department of Energy, an average American household used approximately 866-kilowatt hours per month in 1999 costing them $70.68.
About 30% of our total energy consumption is used to heat water.
Alien Fuel, Inc.
140-A Old Oxford Valley Rd
Langhorne, PA 19047
267-294-7799 Office
267-392-5431 Fax
info@alienfuelsolar.com
Frequently Asked Questions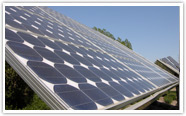 Do the solar panels need to be mounted on my roof?
Panels are often mounted on the roof, but can also be mounted on the ground. Ground mounts are great if the house is shaded, or if dormers or other obstructions limit available space on the roof.
Do the panels need to face south?
South is best, but panels installed facing east or west still generate a very high percentage of possible power. It is usually more effective (and more attractive) to install the panels in the same plane as the roof direction, rather than build an awkward mount to angle them.
How much solar electric power do I need to power my home?
Each home is different, and the amount of electricity you use is very dependent upon your lifestyle, how your home was built, and your appliances. As part of our services, we work with you to reduce your electrical consumption in easy ways.
How much power does the system produce?
Systems come in all sizes, and produce as much or as little power as required. Many systems produce a portion of the home's required power, leaving room for additional conservation or generation in the future.
How long will the system last?
The solar panels have a 25-year power warranty from the manufacturer. This is longer than almost anything else you can buy. The rest of the system has a 5-year warranty in most areas. Inverters can have warranties up to 10 years
Do I need batteries with the system?
Batteries are only required if you want backup power when the utility is out of service. Without batteries, the system has no way to store power, and for safety reasons cannot produce power without the utility in operation.
What happens if the panels get covered by snow?
Solar electric panels need sunshine to generate power. While some sun does make it through several inches of snow, little electricity is generated when the panels are covered with anything. Most power is made during clear sunny days. Our estimates take that into account.
Do I need to install a new roof before the solar panels are installed?
Solar panels will last many years (over 25). Because of this, we want the roof to be in decent condition, as it does not make sense to remove and reinstall the panels after only a few years. However, after the panels are in place, they will greatly reduce the wear on the roof by blocking ultraviolet rays, keeping most snow and ice off the roof, and keeping anything from hitting the roof. Most installations do not require a new roof prior to PV installation.
Do I need to clean the panels periodically?
Most of our customers do not clean their panels. In most areas of the country, there is sufficient rain to clean the panels. However, if you are in a dusty area (very near a busy dirt road, very urban area, etc.) you may see a performance gain from cleaning the panels monthly. If necessary, a hose stream is usually sufficient for cleaning. Do not walk on or over the panels to clean them. Do not use metal, hard, or abrasive methods for cleaning. Do not spray water on the panels when they are very hot.
Are there financial incentives for buying solar electricity?
There are many incentives for purchasing solar. These vary from state-to-state. Some common incentives include:
Clean electric generation
Stable electric cost
Backup power for utility outage
Fight climate change / global warming
Take care of my children's world
Create secure electricity supply
Political statement for a renewable energy future
Strongly dislike buying electricity from the utility
Feeling of empowerment
Remote site with no electric service
Sending electricity back to the utility (net metering) is cool
Solar energy just makes sense
Higher resale value for my property
Individual states, including NJ, NY, CT, MA, DE, RI, ME (limited), PA (limited), MD (limited), have some form of funding to decrease the upfront cost of solar electric photovoltaic systems. Please contact us for more details.